Resume and Interview Guide
Welcome to the Early Childhood Career Development Center Resume and Interview Guide!
Thank you for choosing us to assist you in your career journey in early childhood education. Our resource library serves to support you in each stage of your employment search and selection. Please use each document as a reference to build your own vision of yourself in the educational setting. Please keep in mind that each document is customized for an early childhood educator and the children he or she serves.
We encourage you to look at all of the resources along with contacting our office for personalized support. We wish you well in your career development journey and thank you for enriching the lives of young children in New York!
Best Regards,
The Career Development Center Staff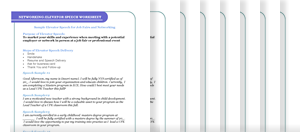 Combined Resources
Download the entire collection of job search resources combined into one file.